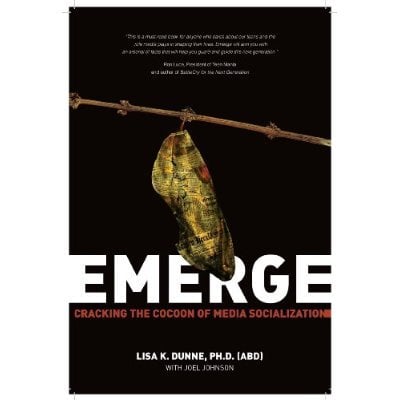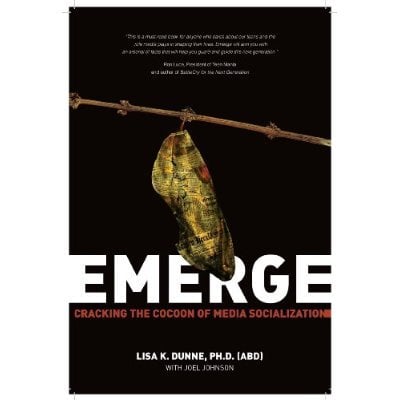 Emerge: Cracking the Cocoon of Media Socialization - Book
$15.00
This book will blow your mind! If you have wondered what affect television, movies and media has on us and our culture then you must read this book!
Written by Lisa Dunne and Joel Johnson
For the last 15 years, Lisa Dunne has worked as an educator at the high school, community college, and university levels in the fields of English, humanities, public speaking, and psychology. She holds undergraduate degrees in Humanities and Secondary Education as well as two Masters degrees, an M.A. in Communication Studies from Regent University, and an M.A. in Organizational Systems from Fielding Graduate University. She is currently completing her Ph.D. in Human Development with a dissertation on relational distress and responsiveness theories. Lisas writing has been recognized by the Columbia Scholastic Press Association, the Florida Community College Press Association, and the Academy of American Poets. Her educational accolades include Teacher of the Year, Whos Who among Americas Teachers, and recognition from the City and County of San Francisco, California. Lisa has been married to her British husband, Adrian, for 19 years. Adrian is the associate pastor of Mosaic Christian Church (www.mosaiccc.com), a thriving faithbased community in Rocklin, California with humanitarian outreaches stretching across the street and around the globe. In addition to speaking and writing, Lisa teaches Developmental Psychology and Interpersonal Communication at William Jessup University in Rocklin, California (www.jessup.edu). Adrian and Lisa have two intelligent and compassionate children, Ethan Reiley and Cymone Azariah, who serve alongside their parents in communitystrengthening endeavors. Lisa speaks regularly on holistic parenting, socialization, organizational and interpersonal communication, home education, nutrition and behavior, and similar topics.